Singing Rule Britannia: A conversation with Rebecca Leggett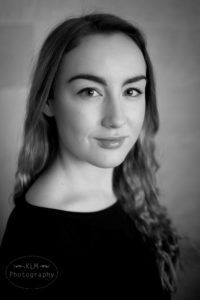 We were very excited to have mezzo-soprano Rebecca Leggett join us as soloist at a recent concert. She performed Elgar's beautiful Sea Pictures, but also led us in the Last Night of the Proms. Read on to find out a bit more about Rebecca, the joys of being a singer, the challenges of having to voice a human-eating plant, who or what has inspired her on the way and what to listen out for in Sea Pictures.
How did you get into singing and what made you decide to make a career of it?
I can't remember a time when I wasn't singing! I sung the part of Nancy from 'Oliver!' in Year 6 and I think that was the point my parents knew that I wanted to perform. I joined the Brighton Festival Youth Choir, then Glyndebourne Youth Opera and it went from there! I am still training at the moment so I have a long way to go.
Who inspired you most in your musical journey?
I have always been lucky enough to have had amazing music teachers, from primary school right through to the present day so that had a huge impact on me. My mum has a great musical ear and played a few instruments around the house when I was growing up. She has always been a massive support of my singing. If I'm honest, I think I get the most inspiration in music, and in life, from my friends and family than from famous opera singers.
What is one of your 'top ten pieces that I want sing one day'?
Sea Pictures is actually one of them! I've always loved the piece, I learnt the whole cycle when I was about fifteen but being fifteen I never performed it so this concert will be the first time!
Can you tell us a bit about the pieces you are singing at the concert – what do you like about them, how difficult are they to sing, what should the audience listen out for?
So many things I love about Sea Pictures. I'm a sucker for a great tune, big build-ups and  word painting and this cycle is packed with all three so it ticks all the boxes for me! They are fairly tricky to sing, lots of long phrases and a big vocal range required. The most challenging aspect for me will be projecting over the orchestra as I am quite a light, young mezzo. As an audience member, I think it's just important to relax with an open mind and let the music do the talking, don't think too hard about it! I guess try and listen to the words as much as possible, it's very easy to get just let the beauty wash over you but you might find you get more out of the music if you listen to the words.
I've never sung Rule Britannia before but I'm excited! I absolutely love the Last Night of the Proms, as a kid I would draw a union jack on a piece of paper, attach it to a stick and wave it around the living room singing along!
If you could take to the stage with anyone, who would it be and what would you sing?
I have always loved Julie Andrews so it would have to be her and probably something from The Sound of Music or Mary Poppins!
What has been your best concert experience so far?
I don't think I could even narrow it down! Each performance is different, I try and treat each one as if it were the best and most important of my career because at the time I think it should be, whether it's singing in a parish church or on an opera stage.
What was the worst moment in your musical career (primary school play examples are allowed as well…)?
Oh blimey…well, I would have to say Year 9, the musical 'Little Shop of Horrors'.
I was backstage as the voice of Audrey 2, a huge human-eating plant, and another student was onstage inside the costume being the plant. We were half-way through a scene and my mind went completely blank, I couldn't make a single world come out of my mouth, I completely froze and there was horrible silence onstage. But the worst part is that because I was backstage I actually had the script right in front of me and yet I still couldn't say my line. My fight or flight instinct kicked in and it chose flight, I ran off out into the school corridor crying my eyes out while the show was still happening. My drama teacher came and gave me the harshest talking to about letting the rest of the cast down and how disappointed she was. I felt so guilty and embarrassed that I vowed never to let anything like that happen again, which thankfully it hasn't!
Best piece of advice you've received in your career?
Try not to compare.
I mean, this is a good life lesson overall. I am still learning how to do this because it is extremely difficult not to, especially in the music world, but people progress in different ways, at different rates and down different paths. What one singer finds easy, you may find difficult but it works the other way round too.
What music do you like to listen to – apart from classical?
Anything! Probably shouldn't be saying this but I love Neil Diamond…and Disney.
What do you like to do in your free time?
Being a student and a freelance singer don't really go hand-in-hand when it comes to interesting hobbies so when I do have some free time it's mainly downtime spent on the sofa with a TV series. I've recently been addicted to Downton Abbey and The Crown…