Meet our players – Cathy Oliver, cello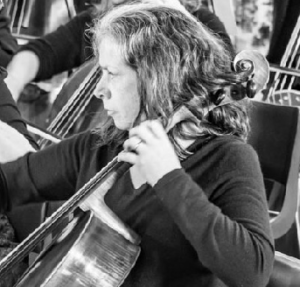 Player profile: Cathy Oliver, cellist, part-time section leader and secret heavy-metal fan
Catherine Oliver was one of the players featured in our spring concert programme. Here is now the opportunity for those of you who couldn't make it to our last concert to find out a bit more about Cathy, who has been with NWSO since January 2007 after moving to the area from Chester.
What made you choose the cello as your instrument? I chose trumpet when asked what instrument I would like to learn at primary school.  As there was not a brass peripatetic in the area, my mother suggested the cello as I 'have big hands'.
At this concert, you will be leading the cello section – what do you enjoy most about being the section leader? The cello section is filled with amazing people who are wonderfully unique.  It is thrilling to be part of a team where we all work hard to create a harmonious sound.
What has been your favourite concert over the years? Impossible to say, however the '50th Anniversary' concert allowed me to play with one of the UKs finest clarinettist, Robert Plane, as well as enjoy Shostakovich Symphony No 5 again.
Has there ever been a 'catastrophic' concert? Three come to mind: losing the horn section as they toppled like dominos from some poorly set-up staging; the brass section returning late for the second half of a concert after using the conveniences at the pub next door to the concert venue; taking my cello out of its case to do some last minute practice just before a concert for it to fall apart in my hands.
What do you enjoy most about being part of the orchestra? The orchestra continues to evolve, finding new and wonderful ways to make music together.
If you could play any other instrument, what would it be? After taking a few lessons 10 years ago, I would love to have the time to learn to play the trombone to a much better standard.
What music do you like to listen to – apart from classical? Heavy metal/rock, however pretty much anything.  Favourites include Muse, Led Zeppelin, Pink Floyd, Beach Boys, ELO, Metallica and Talking Heads.
Who has been the most influential person in your musical journey? Very fortunate to have met many inspiring musicians over the 40ish years that I have been playing, all whom have helped me in some way.
Any top tips for aspiring musicians (in particular cellists…)? Find the right teacher and practise (especially when you do not want to).
Favourite piece of music? Three pieces of classical music that always bring me great joy are Shostakovich Symphony No 5, Sibelius Symphony No 5 and Williams' theme to Jaws.
Most disliked instrument? Pan pipes
Favourite dessert? Doughnut; however if this too cake-like, crème brûlée.
Famous person you'd most like to meet? David Attenborough