Meet our players: Phil Springate, French horn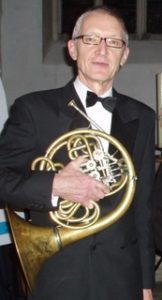 Player profile: Phil Springate, French horn player and one of the longest-standing members of NWSO
Meet Phil Springate, member of our excellent French horn section, who claims (and is not bitter about…:-)) to have been the only player to ever have to audition to join the NWSO. He is also one of the longest-standing members of the orchestra, and has a few tales to tell.
How old were you when you started playing the horn and what made you choose it?
About 11 and it chose me. It was the only brass instrument left in the cupboard not being played.
What advice would you give to someone who is thinking about taking up the horn?
As with any instrument –  go for it but don't forget it will take time and effort. There is no quick fix.
What is the hardest thing about playing horn?
Much of the note range falls in the top of the harmonic series, making hitting the right note more risky.
You are probably one of the longest-standing members of the NWSO. Can you tell us a bit about how you got involved and what you think the biggest changes have been over the years?
As I repeatedly tell people, I think I am the only player who had to audition to get in. I was about 16. I had to play a piece and do sight-reading! The orchestra has always had a relaxed approach to playing, which I am glad to say has changed very little. The playing standard across the orchestra has improved.
What do you enjoy most about playing in an orchestra?
It is an amazing team game that can be enjoyed at any level, and the aim for each player to be the winner is a positive disadvantage.
Do you have any highlight concerts that you've been part of over the years?
Playing Stravinky's The Firebird at the Maltings Snape with Benjamin Britten listening at the back.
Playing through a power failure in total darkness in a NWSO concert. After a minute we were beginning to wing it a bit, but the lights came on and we continued to finish the piece. Perhaps not a highlight, but memorable.
Real highs have come from concerts I have conducted when players/ singers have worked so hard and nailed it on the night.
Do you have a bucket list of pieces that you would like to play?
No, but I have enjoyed playing in the pit for a few big 19th century opera productions so I would always enjoy doing that again.
It is often said that the brass and the string sections in an orchestra don't get on with each other… What is your opinion!?
Rubbish
What music do you like to listen to, apart from classical?
I enjoy anything, but I am of the Beatles generation and so in pop music I like most things pre-21st century!
What do you like to do in your free time – apart from practising…?
Regret not doing more practice – cooking – dog walking
And a few quick-fire questions:
Most disliked instrument? Scottish bagpipes.  Oh dear, sorry Scottish friends.
Favourite ice cream flavour? Pistachio
Adventure holiday or relaxing at the beach? Beach
Cat or dog? Definitely dog every time
Famous person you'd most like to meet? Emile Berliner. So much has happened in music because of accessible recorded sound.