On Gershwin, playing piano during a storm and a career in hairdressing—a conversation with Paul Turner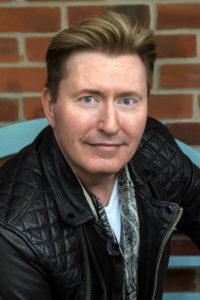 At a recent concert we had the pleasure of welcoming back renowned pianist Paul Turner, who has previously performed Gershwin's Rhapsody in Blue with the orchestra. At this concert we had another Gershwin treat: the Piano Concerto in F. Paul kindly took time out to answer some questions so read on to find out a bit more about life as a pianist and some of the highlights of his career so far.
How old were you when you started playing the piano and why did you choose it?
We had a piano at home and I showed an interest in playing it when I was about 7. I actually don't remember not being able to play the piano!
What has been the highlight of your career so far?
Two concerts with soprano Maria Ewing at the Theatre de Colon in Buenos Aires. It's one of the largest opera houses in the world – terrifying and exciting at the same time!
Who would you say has inspired you most in your musical career?
I've been lucky in having a number of inspirational teachers, including my school teacher Pat Read and an amazing coach at the Royal Academy of Music in John Streets who both had more faith in me than I did! That said, I'm constantly inspired by my colleagues and the challenge of learning new pieces.
What do you like most about performing – and do you still get nervous?
I play lots of chamber music, so there is always pleasure bouncing musical ideas around the stage. I also enjoy the challenge of my solo playing and compiling interesting programmes. Nerves are a necessity – although I've learned to deal with them, I think it would be a sign that I'd lost interest in doing a good job if I didn't feel nervous.
The Gershwin piano concerto: what do you like about the piece and what should the audience listen out for?
For me, it feels like a film score – full of great tunes and some exciting Latin rhythms. The piano is mostly used as part of the orchestral texture, unlike Rhapsody in Blue which is more a set of piano cadenzas with orchestral interludes. As an ex-trumpet player, I'm jealous that I never get to play the great blues melody at the start of the second movement!
If you could perform with anyone, who would it be and what piece would you be playing? (Bonus question…: which venue would you choose?)
It would have to be at the Wigmore Hall because of its great acoustic and tradition. I love working with singers, so it would probably have to be someone like Jamie Barton or Louise Alder in a meaty song recital.
What music do you like to listen to, and do you have a favourite piece of music (either to play or to listen to)?
Anything without a piano in it! There's something about the choral version of Barber's Adagio that always gets me and I still love playing Debussy's Clair de Lune, even though it was my first grown-up solo. It was my audition piece for music college, and I've played it everywhere from funerals to St. John's Smith Square.
Have you ever had any concerts that didn't quite go as planned?
Most of them! Highlights have to include a piano that moved away from me whenever I played loudly, a page turner who couldn't read music, on a ship in a force 8 gale and an electric piano in a power cut.
If you hadn't gone for a career in music, what would have been your option B?
Hmm…hairdresser? Not that I'm obsessed or anything…just don't believe everything you've heard…